Find Your Inner Artist with Karen Charles!
Karen is a well known Event Specialist with SVP Worldwide. She has 30 years of experience in the art of quilting, embroidery, sewing, heirloom and crafting. Karen is known for her enthusiasm in sharing her knowledge with others. Her teaching methods make even the most complicated task achievable for all students. She specializes in continuous machine embroidery techniques, PREMIER+2 Embroidery Software, thread painting , free motion, heirloom sewing and creative serging! You can see Karen's work and her videos by visiting her Facebook page Karen Loves to Quilt and Sew. She will be at Sandy's on February 23rd and 24th! We love having Karen here to share her fantastic samples and to excite our creativity! So if you are wanting to check out the top of the line machine, this is your chance!!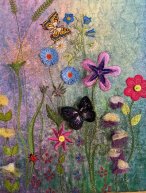 Take a dive into creativity and bring out your inner artist as you embroider and sew your own embroidered collage using our Husqvarna Viking Designer Epic 2 sewing and embroidery machine. Learn how to quilt your fabric in embroidery with programming and Design Shaping, create 3 dimensional butterflies and flowers, add some incredible 3D decorative stitches and viola, you have created your own work of art!! The two days are filled with fun, friends and great food!! 2 days hands on for only $100.00. Space is limited, make your reservations ASAP 859-260-2003

Find Your Inner Artist with Karen Charles!